Pleiadian Dictionary
SAREN: A PLEIADIAN LIGHT LANGUAGE

"MENAL AMALEK AL FIMAKAL LAK NEGLAM DO GOLAMEL NA PEOHIL"
"As soon as you ask, the answer is known"
Back in the early 2000s, my communications with the League of Light began to enrich themselves with a huge influx of words I didn't understand. I needed a Pleiadian dictionary to figure out what we were talking about.
This was the time of my introduction to a Pleiadian light language called Saren. I say "light language" because it is filled with references to light, literally, in the ubiquitous suffix -il. In fact, Saren is a language used not just by Pleiadians in service to the League of Light, but by others as well.
Recent news: Pleiadian Light Language page expands
Saren, an Ancient Pleiadian Light Language
Saren is older than most Earth languages and is sort of related to a form of what became Russian and Hibernian (so they say), but there are traces of it in several languages. Why the link between Russian and Hibernian (Hibernia being the old name for Ireland)? There is a commonality of frequency that joins the two lands and is rooted in a place from which speakers of Saren, a Pleiadian light language, first appeared, which is a point of origin for travelers and migrations. The world was a very different place at the time it was spoken on the planet, so I can only trust what is given to me and hope that someday it makes perfect sense to all. (I don't know but this could be a reference to Proto-Indo-European.)
DID YOU KNOW? Saren is the "lingua franca" of the League of Light.
It's more than just a Pleiadian language; it's spoken by Arcturians and others as well.
Original Transmissions
INTRODUCING A PLEIADIAN LIGHT LANGUAGE
My teachers at the time of sharing the vocabulary of this Pleiadian light language were keen on me receiving and recording the frequencies, so I started writing down the words and their meanings in a little notebook. It was tedious work, as at that time I was still using a pendulum and letterboard for accuracy as an adjunct to the telepathic connection. Also, they were, for a time, communicating by spelling things phonetically, based on how things would sound to me. It was after I asked them to please upgrade the program (or whatever it was) based on standard modern English that we achieved a smoother and more refined mode of communication, both in spelling and grammar. Observing this development was, to say the least for this student of linguistics, fascinating. But I digress. The main essence of those early conversations is captured in this list. See notes below for more information on the Pleiadian light language, Saren.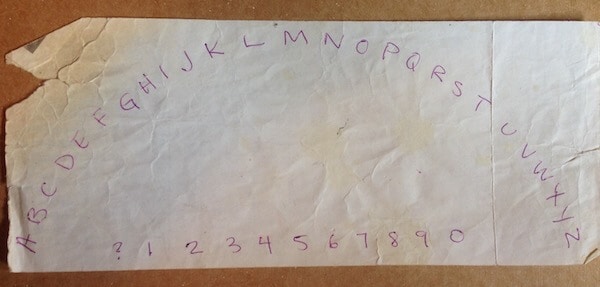 My original letterboard, quickly made one evening when I realized it could be helpful in deciphering the communications that I was receiving. This helped me get familiar with the Pleiadian light language. Click here to see a larger version.
Explore the Pleiadian Notebooks
Click to see more examples of these forms of Pleiadian light language, automatic writing, and messages:
Notes
They call me by the name Joegil. This is how they identified me in the early days of our contact and is an identity of mine in another dimensional existence. It sounds like "Joeje-il", or like George without the r… which I guess is like the nickname equivalent in Pleiadian light language.

The word "injinji" was shared with me by a friend who had learned the name from a native speaker of an African language (I don't remember which one); he subsequently named his company Injinji. He told me about this during the time this list of Saren words and the Pleiadian dictionary was developing. I asked the Pleiadians about it, and that's how it ended up in this list.
The reference to God's favorite color being green is something the Pleiadians pulled out of my personal memory banks, and was something my father said he thought was true, in a conversation following my (inevitable) childhood question about why the sky was blue.
Like the Pleiadian Dictionary?
EXPLORE MORE PLEIADIAN LIGHT LANGUAGE: THE PLEIADIAN NOTEBOOKS