EXPLORE THE DIVINE: PLEIADIANS OF THE LEAGUE OF LIGHT WELCOME YOU
Begin Inner Exploration
An opening exists in every moment in which the perfection of being is accessible from the world of illusion that is called reality. That perfection is held as crystalline purity in the essence of the element of creation known as Nine. Welcome to Nine's Path.
Discover divine Pleiadian wisdom in esoteric galactic knowledge, and recognize yourself anew.
"ESOTERIC AND CRYSTAL CLEAR AT THE SAME TIME"
7aug 2020
More from the League of Light

More is coming through from the League of Light, now that the team surrounding the Order has stepped back from transmissions. Find their latest image message and another transmission on time convergence… plus a new one posting soon.
NINE'S WORD WEEKLY MESSAGE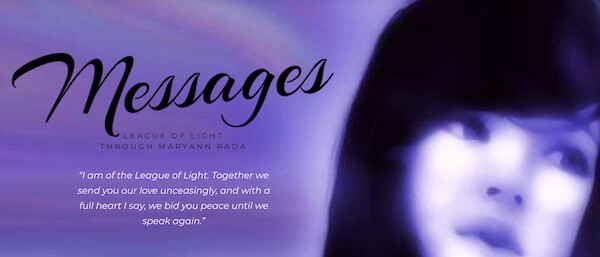 Scroll for a random treat from the archives!
Concept Nodes
Holographic guideposts for traveling Nine's path. Choose one, and enter a world of discovery.
IN THE OPEN HEART, NINE EXPRESSES ITSELF TO TRAUMATIZED SOUL FRAGMENTS, INTEGRATING TO HOME
MEET THE PLEIADIAN SOURCE OF NINE'S PATH
Nine's Path: League of Light
The divine Pleiadian crew in service to the League of Light's galactic and terrestrial mission are eager to make your acquaintance!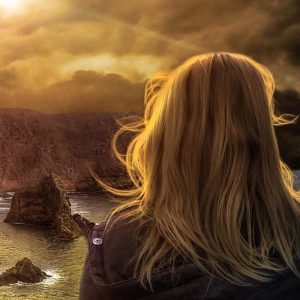 Maryann Rada
FILM NEWS: LIGHTSHIPS: The Trailer
My book Remembrance is the basis for an exciting new movie!
I came to this book [Opalescence] from a study of spiritual writers of the modern times, such as Neale Donald Walsch, Eckhart Tolle and Wayne Dyer to name a few. [They] endowed spiritual gifts through their writings on me which I am deeply grateful for, but if those writers give me wings to fly, Maryann Rada's book allowed me to soar.
We run across strong connections in our journey, and I wanted to point out one that has really helped me understand some key things. Maryann labors furiously to provide her life force to render media that is incredibly insightful. This, in conjunction with her readings, have been in lock step with my journey for quite a while now, and for her I am truly thankful. Bless your beautiful heart Maryann.
Thank you for your dedication to this work —your love for others and your light shining, expanding to us all to help us in navigating these interesting times.
Have always found everything received from you to be in the right time, dear friend. Appreciate all you do grandly, the videos, tarot, Creative Counselors of course, now movie-to-be. But it is who you are, the purity of your Love that has initiated so much positive change in me, Maryann. Perhaps "one and the same" but felt to communicate.
Especially at this time, I'm wading through all the information/advice out there and it seems everyone is an expert. I have been my true self all my life, I go strictly on intuition and I enjoy your messages. This has struck a nerve. Thank you.
It is a work of great wisdom, one that can radically change your point of view for the better by filling you with love and understanding. One of the most important books I've come across during this life of mine.
Your readings are always insightful, Maryann Rada, but this week's reading is particularly relevant. Thank you for all your work. Your readings are highly valuable and assist with clarity and disentangling from the vast amount of reality which hits often like a chaotic stream.
Some of the best money I have ever spent. I highly recommend her to everyone considering a reading. I've had other spiritually prominent people in the field do readings and all I got was sugary fluff. Here's to another vote for Maryann Rada! Love to All!
Like wow! This part [of my personal message] hit my heart and made me teary. I am so ready and open to new teachers and teachings, but most of all to hear my 'home school' and recognizing? … Thank you so much! I absolutely LOVED the whole thing!
READ MORE REVIEWS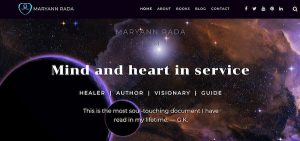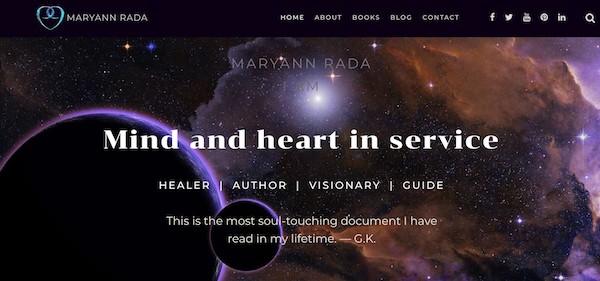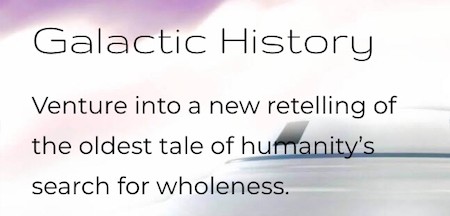 Discover a living body of literature. Dive into new levels of divine Pleiadian wisdom on every page. Order online in print and digital format, or through your favorite retailer.