PLEIADIAN LIGHT LANGUAGE
Saren-to-English Dictionary
Back in the early 2000s, my communications with the League of Light began to enrich themselves with a huge influx of words I didn't understand.
I needed a Pleiadian dictionary to figure out what we were talking about. What you see collected on these pages are a result of combing through pages of my notebooks, carefully double- (and triple-)checking each word, notating, and alphabetizing them into these lists.
New words are added as I come across them. I'll be gathering phrases and sentences in one place, too. It's a work in progress! This page features a tabbed alphabetical listing for translating Saren to English. Obviously, the list isn't exhaustive; it merely reflects those words and phrases that came through various conversations. Further enhance your appreciation and study with the English-to-Saren page.
Want to see more of the communications from the Pleiadians and others of the League of Light? Follow the links below to explore pages of the Pleiadian notebooks on Nine's Path. For more information on Joegil, the Pleiadian name by which the League of Light addresses me, click here. Finally, consider subscribing for news and posts, for more information as it comes online. You'll find a link below.
Be sure to see the list of phrases and expressions in the Saren light language!
EXPLORE
PLEIADIAN NOTEBOOKS
More examples of Pleiadian light language, automatic writing, drawing, and messages:
EXTRATERRESTRIAL LANGUAGE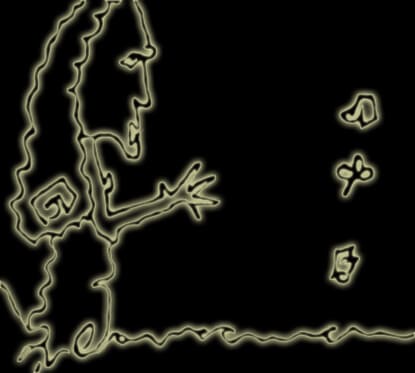 At times, transmissions will come through in a script that's not of this world. The writing on these pages of the Pleiadian notebooks, some with translations, are sure to trigger remembrance in some people.
Read More
HANDWRITTEN TRANSMISSIONS
Images of conversations with Anica and others, "kin", higher-dimensional teachers from the League of Light and their allies show handwriting unique to each, and offer insight into their personalities and mission.
Read More
Many transmissions are interwoven with drawings, quirky, evocative, often charming. These intricate line drawings allow the Pleiadians to share their view, quite literally, and give a snapshot of conditions on Earth.
Read More
Do you enjoy this Saren-to-English dictionary?
Support this site: