Do you sense the opening of time and space before your feet? The simplicity of confidence in the plan unseen can be enough to sustain you in the transition from past to future, death to life, what was into a fully lit panorama of wonders yet to behold. It's true, you know. You've already come to the limit of what you can possibly do. Surely there is something beyond the edge of this dream. There must be some reason to the rhyme that now comes to a poetic conclusion. There is, and it's brushing up onto your toes. A limitless world of the possible is sending emissaries to meet you. Take a big breath now, and settle into the transformation.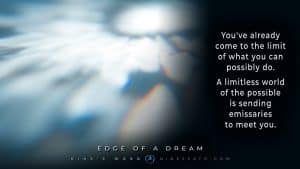 Pack lightly for where you're heading. All the treasures of your heart will fit neatly into a backpack. All that's left behind, all that's gone, will soon be less of a weight, and that's for the good. Can you let go of the pull that the past and all its form exerts upon you? Its magnetic attraction is already becoming lost to your attention. Turn toward that impulse, knowing it's the rediscovery of the song of your soul. It's calling to you, reminding you of its secrets. With every step you take toward trust, you come ever closer to snapping into place with remembered purpose. Let the vitality of the entrainment with your path wrap you with a new sense of life. Let the shift in the wind enliven your enthusiasm. This is enough to guide you onward, yet you have something else with which to anchor yourself into fate's full flowering: the promise of the rose. Without threat of impaling yourself upon the sharp thorns of circumstance, you hold its ageless presence within your awareness. What is to be may not yet be revealed in full color and detail, but you can already sense the essence of life within it. Let what you carry within, this perfection of the promise of divine animation, establish itself within the source of the breath of life now wrapping around your form. You've already come through the difficult passage. Wide open now is the portal; fully engaged is your mind. Already, the unseen path ahead sets imperceptible footholds for you to venture upon. Trust, and see where that leads.
Established securely, despite any evidence to the contrary, can you fully appreciate the significance of this moment? All that has come before, the storms, the efforts, the triumphs as well as the losses, all add up now in a final tabulation. Whatever you have previously held in mind pales in the full appreciation of what now reveals itself as your true state of being. Take a moment to appreciate what's happening right now. The flow of gold has alchemized into a treasure beyond compare, yet in the reflection of true power that you have come into, and are becoming more aware of growing within yourself, you see that the gold itself merely shines in the light of acquiescence to your true measure of wealth. Strong you are becoming, standing firm in the space of your full power as a human being alight with purpose and zeal. The culmination of a long and holy charge is greeting your mind. Can you appreciate fully what you have accomplished? Are you yet in awe of how the hand of God has given you access to the treasury of love's secret bestowal of grace? What in turn has brought you from rags to riches, from misery to triumph, from longing to enthusiasm now presents to you another passage. What will you become when you face its mirrored surface? Who will you be as you finally announce the grand finale of your act of self-assembly? The last rite of passage in this episode of your adventure is merely the recognition of having done what needed to be. You're ready.
One of the great paradoxes of life is the fact that endings are beginnings, and beginnings are endings. You stand at the edge of a drastic experience of that. Staying balanced on such a razor's edge epitomizing the substance of your endeavors need not be as hazardous as it may sound. Having shaved off all the unnecessary accoutrements of a life well lived, it yields to the effervescent convergence of one world with another. In the molecular dance where the known meets the unknown pulses the insistent presence of a living, breathing reality. The sharp line between worlds blurs as one dissolves into another. Where you stand will give way to a fluid transition into a new state of being. The reality you've trusted under your feet has been slowly, imperceptibly dissolving into another as yet without form but, you are realizing, with an order to its mystery that assures you of your destiny. Your choice to trust has brought you to the edge of familiar terrain, square in the face of a horizonless sea. Yet you are not bereft of hope, nor of promise, for all that you have garnered in the journey to the borderlands sustains you. The essence of form, be it reminiscence or neural encoding, is sufficient to support you. In fact, the transmutation of form to energy ensures your success, as it transits through your vision into new forms reflecting the true ascendancy of your mind. Already glints of coming glory populate your thoughts. Let what is to be arrive. Your next move is a big one, and it's already underway.
THIS WEEK'S CONTEMPLATION
"After a lifetime of doing as he was told, he was suddenly thrust into a reality in which he could do as he pleased. Would he allow himself to relish the enthusiasm which played at the edges of thought, the boyish exuberance of freedom regained, summer holidays revisited, or would the conditioning of his later years step authoritatively between him and living the life of his dreams? Sadly, he could not in that moment remember his dreams, so, tired of authority despite his professed loyalty toward its earthly manifestation, he silently, secretly determined that if ever there was a time to dream a new dream, it was upon him now. It was an opportunity he had been waiting for, though it had never occurred to him that it would ever truly materialize. So he packed his things and left the life he had known to embark on a life he had never before imagined possible."
— An excerpt from Opalescence: The Pleiadian Renegade Guide to Divinity
© Maryann Rada, all rights reserved. Repost permitted with link to original post.
PROPS
Thanks for your kind support!
 Find the video edition of this message on YouTube
Download images of Nine's Word essential messages from the Image Gallery
You've already come to the limit of what you can possibly do. A limitless world of the possible is sending emissaries to meet you. #ninespath #divinity #pleiadian #turningpoint
Click To Tweet