by Veronica
How many of you have a "favorite" read? A book that you feel, has changed your life? As for me, that is Maryann's book, Opalescence: The Pleiadian Renegade Guide to Divinity.
Now, I will explain in the near future in detail, why or how this came about, but for now I wanted to share a quick thought. Fascinating books such as Maryann's are like the bible. They are meant to be kept at close hand to continuously refer back to. They are the types of books we don't come across by "accident". They are placed in front of us at precise moments in our life's journey, as a directional map.
Last night I had decided to skim through some of my highlighted notes in Maryann's book, and stumbled upon this passage:
"A true star person who is on the program to benevolent, loving help would only make you feel comfortable in their presence. Never would the star person make you feel threatened, confused, or intimidated."
This had me stop for a moment and reflect on a recent decision I made in my recent article on the "look-alike" Pleiadians ("The Unknown Visitors"). I thought, "Wow, this makes me feel so at peace with my decision." When they (Spirit, guide, angel, being, etc.) come to you, you should never feel any fear or doubt because they come in the utmost purest forms of Love. Even God himself, whom we fear, is a being of immense and total Love. No doubts, no second-guessing; just total trust in the moment.
If you haven't yet read Maryann's book, Opalescence: The Pleiadian Renegade Guide to Divinity yet, I would highly recommend it. It has opened my eyes and answered so many pending questions, that I would love to share that same feeling with you.
Note: You can find out more about this and other League of Light titles on the Nine's Path page "Opalescent Nine", here.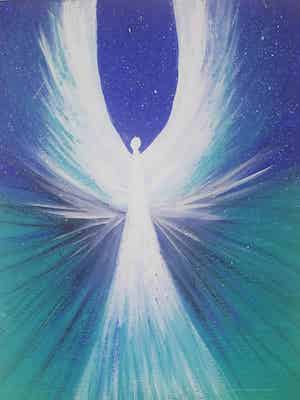 I am welcoming with open arms this new chapter in my life. My name is Veronica and I'm a wife and mother of two. Some may know me as a dental assistant, where others may not know that side of me connected to the spiritual world. Ever since I could remember, my want for spiritual knowledge has never seemed to cease. Through Dream State, I have found and hold as Truth, that all questions will be answered as we shed a different part of our "old self", and begin to remember again. As the years progressed, my dreams became much stronger, more vivid and in depth. In 2013, I was shaken by an experience that would leave me three years wondering, "What does this all mean?" I am now questioning a whole new world. "What is Nine and how can one get there?" This experience led me to Maryann's book, Opalescence: The Pleiadian Renegade Guide to Divinity, where she would answer a question that had me perplexed, in just a few weeks. A weight has been lifted and now it seems like the doors have been opened. Understanding had to be reached before any advancements would be made. I now have this amazing and humbling opportunity to share my messages and understanding of Nine alongside one of my favorite authors, and you.